2007-08: BO RYAN (Wisconsin)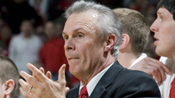 After leading Wisconsin to both the Big Ten and regular season and conference tournament championships, Bo Ryan has been selected as the recipient of the 2008 Jim Phelan National Coach of the Year Award.

The award, which is voted on by a 20-member selection and is chaired by Jim Phelan, is presented annually at the Final Four to the top coach in college basketball.
"There weren't many who thought Wisconsin would be a factor in the Big Ten, let alone win the league," says CollegeInsider.com's Joe Dwyer. "But Bo Ryan has made a career of proving people wrong. He is without question one of the top handful of coaches in all of college basketball."
2006-07: TONY BENNETT (Washington State)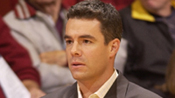 After leading Washington State to one of the biggest turnarounds in college basketball, head coach Tony Bennett has been named the recipient of the 2007 Jim Phelan National Coach of the Year award.

Last season Washington State was dead last in the Pac-10, finishing 4-14 and 11-17 overall. One year later the Cougars tied a school record with 26 wins. Washington State posted 26 wins during the 1940-41 season before losing in the national championship game to Wisconsin.
2005-06: BEN HOWLAND (UCLA)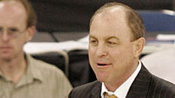 Ben Howland and UCLA came up short in Monday's NCAA championship game, but Howland was second to none in the voting for the Jim Phelan National Coach of the Year Award.

Howland, who received five first place votes, edged out North Carolina head coach Roy Williams by eight points in the final voting which was tabulated on March 12, before the start of the NCAA tournament. "It is a privilege to receive an award named in honor of Jim Phelan, who is one of the great coaches in the history of college basketball," says Howland.
2004-05: TUBBY SMITH (Kentucky)
After leading his team to a 28-6 record, University of Kentucky head coach Tubby Smith was rewarded with 2005 Jim Phelan National Coach of the Year award, edging Illinois' Bruce Weber by ten points.

"This might be Tubby's finest coaching job," says Rice head coach Willis Wilson who is one of 20 members on the Phelan Award committee. "He got so much out of his team, which was very young. His ability to motivate and get the most of out what he has to work with has always been a staple of Tubby Smith. This season was a prime example of that. Tubby really deserves this award."
2003-04: PHIL MARTELLI (St. Joseph's)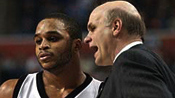 No one could have predicted that St. Joseph's would have such a magical run. Jameer Nelson and Delonte West are big reasons why the Hawks posted a perfect 27-0 regular season mark, but Phil Martelli was the glue that kept it all together.

A 10-year assistant with the Hawks prior to taking the university's coaching position on July 20, 1995, Martelli has led SJU to three NCAA and two NIT Tournament appearances in his eight seasons. The native of Drexel Hill, Pa. has twice tied the school record for victories with identical 26-7 records in 1996-97 and 2000-01. Both of those seasons ended with the Hawks ranked in the final national polls (12th in 1996-97; 22nd in 2000-01).
2002-03: MARK SLONAKER (Mercer)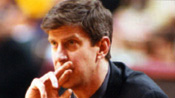 Last season Mark Slonaker and Mercer won just six games. This season the Bears won 23 games claimed the first regular conference championship in school history (14-4).

Mercer and Slonaker can also lay claim to the best single-season turnaround in NCAA history, going from 6-23 to 23-6. Mercer also cracked the CollegeInsider.com Mid-Major Top 25 for the first time ever.

One could easily argue that Slonaker has one of the toughest jobs in division I college basketball. In addition to very high academic standards, their home court has a capacity of just five-hundred people.