ST. JOSEPH'S PHIL MARTELLI

NAMED PHELAN AWARD RECIPIENT

April 1, 2004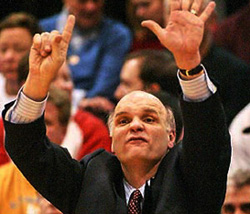 No one could have predicted that St. Joseph's would have such a magical run. Jameer Nelson and Delonte West are big reasons why the Hawks posted a perfect 27-0 regular season mark, but Phil Martelli was the glue that kept it all together.

A 10-year assistant with the Hawks prior to taking the university's coaching position on July 20, 1995, Martelli has led SJU to three NCAA and two NIT Tournament appearances in his eight seasons. The native of Drexel Hill, Pa. has twice tied the school record for victories with identical 26-7 records in 1996-97 and 2000-01. Both of those seasons ended with the Hawks ranked in the final national polls (12th in 1996-97; 22nd in 2000-01).

A two-time Atlantic 10 Conference and three-time Eastern Basketball Coach of the Year (1997, 2001, 2003), Martelli is one of just five Hawk coaches to record 100 career wins. Among his A-10 peers, Martelli is second among active league coaches with 80 A-10 wins, and sixth all-time in the league's 25-year history.

It's been a magical season for the Hawks and that continues with Martelli being the recipient of the CollegeInsider.com Jim Phelan Coach of the Year award.