WASHINGTON STATE'S TONY BENNETT RECEIVES 2007 PHELAN AWARD

March 30, 2007
view the 2007 Jim Phelan Award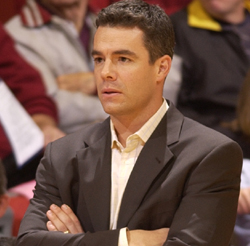 After leading Washington State to one of the biggest turnarounds in college basketball, head coach Tony Bennett has been named the recipient of the 2007 Jim Phelan National Coach of the Year award.

Named after the legendary Mount St. Mary's head coach Jim Phelan who won over 800 games and coached in more games then any the history of college basketball, the award is presented annually the top coach in America, as determined by a 20-member voting panel. The voting was completed on March 1.

"Tony Bennett took a group of good players and molded them into a great team," says collegeinsider.com's Matt Drake who is also on the award committee's voting panel. "Twenty years from now people will still be talking about the 2006-07 Washington State Cougars. It was a special season."

Last season Washington State was dead last in the Pac-10, finishing 4-14 and 11-17 overall. One year later the Cougars tied a school record with 26 wins. Washington State posted 26 wins during the 1940-41 season before losing in the national championship game to Wisconsin.

2007 marked the first NCAA tournament appearance for the program since 1994 and just the fourth in school history.

The Cougars won 14 games away from home, the most since a school-record 17 (all on the road) in 1916-17 when the Cougars were named national champions (Helms Foundation).

Bennett received six first place votes and totaled 60 points. Virginia Tech's Seth Greenberg finished second with 34 points. Greenberg, Mark Fox (Nevada), Billy Gillispie (Texas A&M), Ben Howland (UCLA), Todd Lickliter (Butler), Chris Lowery (Southern Illinois), Gregg Marshall (Winthrop), Thad Matta (Ohio State) and Bo Ryan (Wisconsin) all received first-place votes.

Previously know as the CollegeInsider.com National Coach of the Year, the award was renamed in March of 2003 to honor coach Jim Phelan. The list of winners includes Mark Slonaker (Mercer, 2002-03), Phil Martelli (St. Joseph's, 2003-04), Tubby Smith (Kentucky, 2004-05), Ben Howland (UCLA, 2005-06).
---
2007 JIM PHELAN AWARD VOTING
(first-place votes in parenthesis)
| | | |
| --- | --- | --- |
| Coach | School | Points |
| | | |
| Tony Bennett | Washington State | 60 (6) |
| Seth Greenberg | Virginia Tech | 34 (2) |
| Todd Lickliter | Butler | 31 (1) |
| Billy Gillispie | Texas A&M | 27 (3) |
| Chris Lowery | Southern Illinois | 24 (1) |
| Gregg Marshall | Winthrop | 22 (1) |
| Ben Howland | UCLA | 21 (2) |
| Thad Matta | Ohio State | 20 (1) |
| Bo Ryan | Wisconsin | 16 (1) |
| Kevin Stallings | Vanderbilt | 15 |
| Mark Fox | Nevada | 12 (1) |
| Billy Donovan | Florida | 7 |
| John Calipari | Memphis | 5 |
| Jim Baron | Rhode Island | 3 |
| Cliff Warren | Jacksonville | 3 |
| | | |
2007 Finalists inalists Announced | Todd Lickliter earns mid-season honors