BUTLER'S TODD LICKLITER EARNS JIM PHELAN MID-SEASON HONORS
Jan. 3, 2006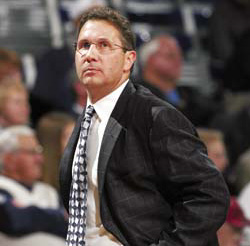 Much like his Bulldogs have done to the competition this season, Butler head coach Todd Lickliter ran away with the Jim Phelan mid-season coaching honors, more then doubling the point total of the runner-up Ben Howland (UCLA).

"Todd Lickliter has been a great coach for a long time, but Butler's great success this season has finally brought much deserved attention to his abilities in all aspects of coaching," says Joe Dwyer, editor-in-chief of CollegeInsider.com. "This award represents more then just great coaching ability. It also speaks to the character of the individual and Todd Lickliter is certainly a first-class individual and very deserving on an honor with Coach [Jim] Phelan's name on it."

Now in his sixth season as the head coach at Butler, Todd Lickliter has helped to maintain the foundation that was laid by his predecessor (now Athletics Director) Barry Collier. But this season he has taken the program to new heights, which include the school's highest national ranking in more then half a century. What makes the great start even more impressive is where the Bulldogs, currently 13-1, ere picked to finish, before the start of the season.

When the Horizon League announced its preseason predictions, only three programs were picked to finish lower then Butler. The coaches, sports information directors and media members associated with the Horizon tabbed Butler for a sixth-place finish in 2006-07. Just over two months later the Bulldogs are ranked No. 1 in the Mid-Major Top 25 and No. 13 in both the Associated Press (A.P.) and the ESPN/USA Today polls released on New Year's Day.

Lickliter received 75 total points, including 9 first-place votes. UCLA's Ben Howland was second with 37 points, including 2 first-place votes. Ernie Kent (Oregon), Jim Crews (Army), Bob Knight (Texas Tech), Bo Ryan (Wisconsin), Sean Sutton (Oklahoma State) and Mark Turgeon (Wichita State) also received first-place votes.

Last season Florida's Billy Donovan received mid-season honors, while UCLA head coach Ben Howland was presented with the Jim Phelan National Coach of the Year award at the Final Four, in Indianapolis, IN.

The CollegeInsider.com Coach of the Year award was renamed in honor of Jim Phelan who retired at the end of the 2002-03 season. The Jim Phelan Award is presented annually to the National Coach of the Year. Previous winners include Howland (2006), Tubby Smith (Kentucky, 2005), Phil Martelli (St. Joseph's, 2004) and Mark Slonaker (Mercer, 2003).
---
MID-SEASON VOTING RESULTS (first place votes in parenthesis)
| | | |
| --- | --- | --- |
| Coach | School | Points |
| | | |
| Todd Lickliter (9) | Butler | 75 |
| Ben Howland (2) | UCLA | 37 |
| Sean Sutton (1) | Oklahoma State | 31 |
| Bo Ryan (2) | Wisconsin | 27 |
| Mark Turgeon (2) | Wichita State | 25 |
| Ernie Kent (1) | Oregon | 21 |
| Jim Crews (1) | Army | 14 |
| Bob Knight (2) | Texas Tech | 13 |
| Mike Brey | Notre Dame | 9 |
| John Beilein | West Virginia | 7 |
| Mike Krzyzewski | Duke | 7 |
| Oliver Purnell | Clemson | 6 |
| Jeff Bzdelik | Air Force | 5 |
| Chris Lowery | Southern Illinois | 4 |
| Mark Fox | Nevada | 3 |
| Ben Jacobson | Northern Iowa | 3 |
| Steve Merfeld | Evansville | 3 |
| Dick Davey | Santa Clara | 2 |
| Mark Few | Gonzaga | 2 |
| Barry Hinson | Missouri State | 2 |
| Thad Matta | Ohio State | 2 |
| Billy Donovan | Florida | 1 |
| Tom Izzo | Michigan State | 1 |
| | | |