DAYTON'S BRIAN GREGORY EARNS JIM PHELAN MID-SEASON HONORS
Jan. 7, 2008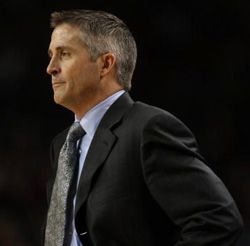 Dayton's 11-1 start helped Brian Gregory earn the Jim Phelan mid-season coaching honors.

Gregory edged out Vanderbilt's Kevin Stallings by two points in the final voting.

"Brian has done a tremendous job with the Dayton program," says CollegeInsider.com co-founder Joe Dwyer who serves on the 20-member voting panel. "He's not a good coach, he's a great coach and a guy that will build an impressive resume over the next couple of decades. Most importantly he does it the right way. He's a class act."

Dayton ran off ten straight wins, which included a 70-65 triumph at Louisville and an impressive 80-55 win over No. 6 ranked Pittsburgh, which was the Panthers first lost of the season.

A former assistant under Tom Izzo at Michigan State, Gregory played for a former Jim Phelan Award winner in Greg Kampe at Oakland University (1999-2000)

"He was the best point guard I coached," said Kampe. "I would turn the game over to him and he would deliver. It was evident then that he would one day be an excellent coach. It's great to see him having success."

John Calipari (Memphis) finished third in the voting, with Andy Kennedy Mississippi (Mississippi) and Jim Baron (Rhode Island) rounding out the top five.

Named after the legendary Mount St. Mary's head coach Jim Phelan who won over 800 games and coached in more games then any the history of college basketball, the award is presented annually by CollegeInsider.com to the top coach in America. Washington State's Tony Bennett was the recipient of the award last season, which was presented at the Final Four in Atlanta.
---
MID-SEASON VOTING RESULTS (first place votes in parenthesis)
| | | |
| --- | --- | --- |
| Coach | School | Points |
| | | |
| Brian Gregory | Dayton | 39 (4) |
| Kevin Stallings | Vanderbilt | 37 (2) |
| John Calipari | Memphis | 29 (3) |
| Andy Kennedy | Mississippi | 28 (3) |
| Jim Baron | Rhode Island | 21 (2) |
| Jamie Dixon | Pittsburgh | 18 (1) |
| Roy Williams | North Carolina | 18 (1) |
| Brad Stevens | Butler | 17 (1) |
| Rick Barnes | Texas | 15 |
| Randy Bennett | Saint Mary's | 9 (1) |
| Frank Haith | Miami | 9 (1) |
| Tony Bennett | Washington State | 9 |
| Bob Huggins | West Virginia | 7 |
| Bob Marlin | Sam Houston State | 7 (1) |
| Dave Rose | BYU | 6 |
| Bill Self | Kansas | 6 |
| Trent Johnson | Stanford | 4 |
| Ralph Willard | Holy Cross | 4 |
| Homer Drew | Valparaiso | 3 |
| Anthony Grant | VCU | 3 |
| Scott Drew | Baylor | 2 |
| Kevin O'Neill | Arizona | 2 |
| Bruce Pearl | Tennessee | 2 |
| Tom Crean | Marquette | 1 |
| Keno Davis | Drake | 1 |
| Dino Gaudio | Wake Forest | 1 |
| Mark Turgeon | Texas A&M | 1 |
| Bob Williams | UC Santa Barbara | 1 |